ConstructConnect Takeoff is a giant leap forward in construction takeoff and estimating. It goes far beyond simple measurements into real-time collaboration and vastly improved Project organization and overall efficiency.
As you work, other users in your organization see what you are doing and can provide immediate feedback or assistance. No more sending e-mails and waiting for updates from the field. As updated project documents are published (if you are working in a ConstructConnect project), you are notified within the application and the updates are pulled in for you automatically.
You can access your projects from any supported Windows computer.
You can collaborate with others inside and outside your organization.
You get real-time updates to your ConstructConnect Project Intelligence projects.
You can export your takeoff results to Quick Bid to complete your Estimate.
You do not need to keep track of licenses or data files. Everything is stored in our Cloud and available anywhere, anytime you need it.
At the end of this Chapter, our goal is that you understand what the program can do for you and the basics of how it works. We cover each screen and how to use the tools in detail in the following Chapters.
Registering for the Takeoff Platform
Your Customer Success Manager adds new users to the Platform. Your Organization's Admin instructs Customer Success who to add, modify, or remove.
If you are not sure if you are already registered, try to log in, if you get a notice that your e-mail is already used, click "Forgot My Password" and the system sends you a "Password Reset" e-mail so you can setup a new password and log into your account.
Collaboration
Because the basis of ConstructConnect Takeoff is to improve the bidding process, collaboration is one of the key features.
You can collaborate with other users within your Organization. You are in complete control over who has access to your Projects and what they can do.
Roles and Access Levels
We discuss Roles in detail later in the User Guide, but, briefly, you can assign one of several Roles to people with whom you share your project.
By default, only you and your Organization's Admin will have access to new projects when they're created. To grant access to anyone else, go to the Project Cover Sheet, add the person's name, and assign them an Access Level.
By default, new users to your Organization have "No Access" to existing projects (they won't even see them in their Projects and Bids List). Again, to grant access, you can add them within a specific Project's Cover Sheet.
License Required
Just because someone is a Registered User for an organization does not mean that Organization must give them a Takeoff license. Users without a Takeoff license cannot cannot log into ConstructConnect Takeoff, although they can access platform projects in Doc Viewer.
Organizations and Projects
As a ConstructConnect Takeoff user, you belong to one and only one Organization. To access more than one Organization, you need to create another e-mail account.
Your Organization
Your Organization is the company providing you with a access to its projects in ConstructConnect (the Platform) and a Takeoff license so you can log into ConstructConnect Takeoff. When your company purchases ConstructConnect Takeoff we set up a single "organization administrator". The Organization's Admin is responsible for adding users and assigning them their correct roles and licenses.
If your company has not purchased Takeoff Licenses, you can view projects to which you are invited and the projects you add to Bid Center, but only in Bid Center and Doc Viewer. Your organization must purchase Takeoff licenses to use ConstructConnect Takeoff, we do not cover unpaid organizations in this User Guide. See Bid Center's online help:
https://constructconnect-help.atlassian.net/wiki/spaces/CPOH/pages/497549397/Bid+Center
for more information.
Projects and Data
Even though you may share a Project with a user at your Organization, if you do not make them a "Project Owner", they cannot re-share the Project with anyone else. Of course, they can make a copy of the project and share that duplicate with others, but that is something for your Organization to address as a business rule.
You have access to your Organization's "Masters", which are records that are reused from Project to Project such as Saved Templates, Project Types, Bid Statuses, etc. These are all covered in Masters.
There are two ways to add Projects to your organization. We cover both options in detail in What are Projects?.
ConstructConnect Project Intelligence projects
If you are using ConstructConnect Project Intelligence to locate and manage your projects, or have received an Invitation to Bid through ConstructConnect, you can you "push" a Project to Takeoff (assuming you have a Takeoff license, of course). Subsequent addenda and revisions to the Project are incorporated into your project automatically. When Project updates are made, you get a notification in Takeoff and the updated Plan Sets are added to your Project and matched to existing Pages automatically.
Projects you create in CCTakeoff
You can also create Projects in ConstructConnect Takeoff from plans you receive from other sources. When Project updates are published, you simply download the updated Plan Set, add it to your Project, and then tell Takeoff how the new set matches up to your existing Page.
Whether you are use Project Intelligence or manually create your projects, you can see and compare the original, pre-construction plans, and each Revision, as the job progresses, right from ConstructConnect Takeoff.
You may see projects in your list that you did not create. That just means whoever created the project has not restricted viewing or editing. You may want to filter the Projects and Bids List to show only "your" projects. We cover filtering and grouping in
Searching, Filtering, and Sorting the Projects and Bids List
. It is best not to delete something unless you created it.
Trial Versions of ConstructConnect Takeoff
You can now access a trial version of ConstructConnect Takeoff from several places within the ConstructConnect Platform. Activating the trial is very easy, and you don't even need to contact us to get it started.
When working in ConstructConnect Document Viewer and/or Web Takeoff, you'll see a "Start Advanced Takeoff Trial" button in the top right corner.

In the next window that appears, click "Get Your Takeoff Trial", and the trial will begin downloading to your computer. It's just that simple!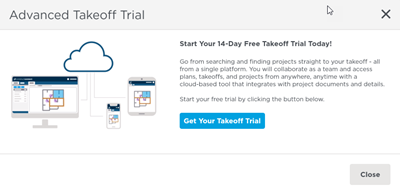 Following the download, find the installer file and double-click it. With browsers such as Google Chrome and Microsoft Edge, the download should appear in the lower left corner. With Firefox, you might need to check your Downloads folder and run the installer from there.
When the download is finished, log into CC Takeoff with your ConstructConnect username and password. You will then have full access to the program for a period of 14 days.
As a reminder, if you want to use your trial of CC Takeoff on a Mac, you must be running a Windows emulator, such as Parallels® or Boot Camp®. For more information, see Using ConstructConnect Takeoff on a MAC.