Although ConstructConnect Takeoff allows you to share bid information (plans, takeoff, and annotations) with other people in your Organization, sometimes, you need to share that information with people who do not have access to your Organization's data or ConstructConnec Takeoff at all. When you need a print-out, ConstructConnect Takeoff has you covered.
If you are looking to output your plans and takeoff to a PDF, please see Related Articles.
By the end of this chapter, you should understand how to use the Printing features to get the output you want just right.
To access the Print system, click the

button on the main toolbar (or press Ctrl + P on your keyboard).
When printing, limit the output to 200 DPI or less (ConstructConnect Takeoff stores all Plans at 200 dpi, so increasing the output beyond 200 dpi will not improve print quality).
The Print Preview window opens showing the "Current View" - what you saw in the Takeoff Window.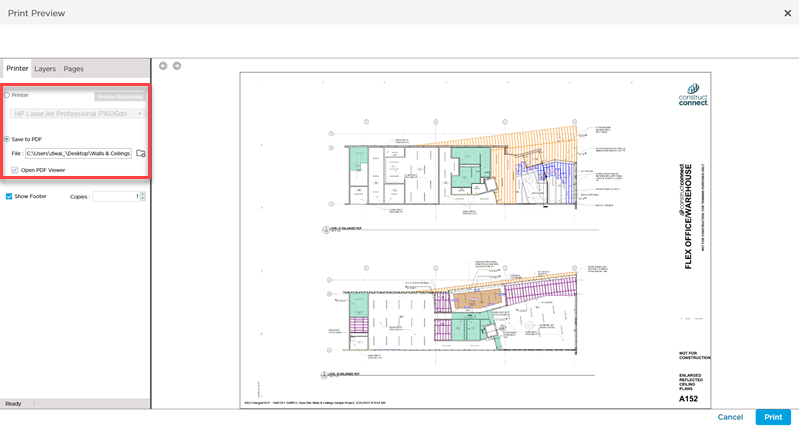 Print Preview can take a little time to build the preview for every page, especially if you are previewing a large number of Pages or your Pages include a large number of takeoff objects, your computer is low on resources, or other applications are tying up system resources. You will notice that the first few pages load right away, and then subsequent pages load as they are rendered.
There are two sections to this window:
What, Where, and How to Print (the left set of controls)
The Preview (the right side of the window)
When you are satisfied with your printing setup, click the Print button at the bottom of the screen.
To return to the Takeoff window, click Cancel.
What, Where, and How to Print
In the articles that follow, we detail how to setup a Print job to get exactly what you want/need out of ConstructConnect Takeoff. Remember, whatever you see in the Preview section on the right is what is going to be printed (WYSIWIG - What You See Is What You Get).
No matter what you choose to print (a View, a Page, an enter Plan Set, etc.), you can set a few options that customize your printout.
There are three tabs that allow you to choose what, where, and how to print, detailed in the articles that follow:
Printer (Where to print)
Layers (What to Show on each Page)
Pages (Which Pages you want to print)
Status Bar
At the bottom of this Print Preview window is the Printing status bar that indicates the progress of your print job.