Although your organization's data (images, takeoff, users, etc.) is stored 'in the cloud', ConstructConnect Takeoff itself (the program) runs on your computer. You need to install some software before you can start using the product - we make it very easy.
We use "Click-Once" installation technology to install ConstructConnect Takeoff and keep it updated.
System Checklist
Windows® computer, preferably Windows 10 Pro
.NET 4.8 Framework (Windows component/update) (you'll be prompted to install this update if it is not installed already)

At least 4GB RAM and 20GB of Hard Disk space
Broadband internet connection - minimum 5MBps (assuming a single, average user)
1280 x 1024 Minimum display resolution
Please review the full System Requirements to make sure your computer can run ConstructConnect Takeoff.
Installing ConstructConnect Takeoff
The download link for the program is available on the Takeoff Product Info and Download page (the button above).
On the download page, click "Download",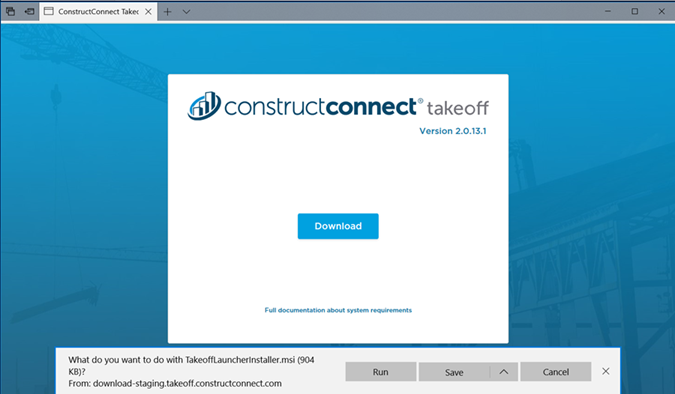 Click Run when prompted (or save to your desktop and double-click the "msi" file to start the installation).
The installation may be blocked by Window's Smart Screen Protection.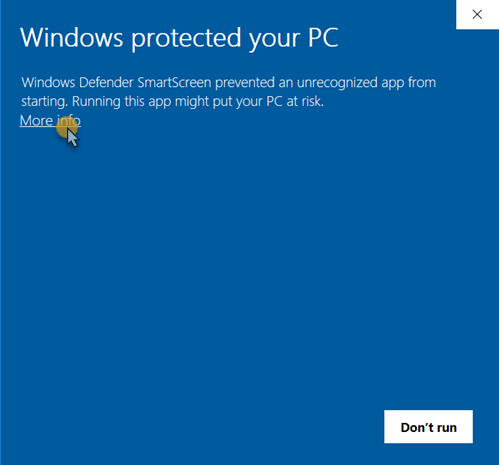 If this happens, click the "More Info" link and then click "Run anyway".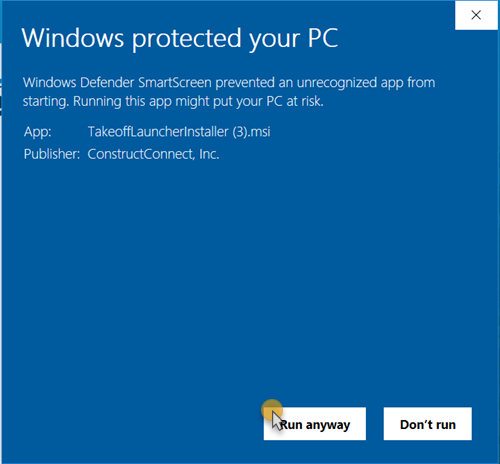 Once the installation starts, the Click-Once installer downloads the necessary files to your computer. Depending on your Operating System and network speed, this could take a few minutes to over an hour (the download is approximately 300MB). While the files are downloading, a status indicator shows the progress...

After all files are downloaded, the installation completes automatically.
When the installation is complete, the Login screen immediately displays. We cover logging in in detail in the next article, however, assuming you log in immediately after installing the application, the Live Link Add-in for Excel installation starts.
Installing .net Framework 4.8
If .NET 4.8 Framework is not installed on your compute, the first time you try to run the program, you will be prompted to install it. To install this Microsoft Update, you must have Administrator rights on your computer, if you do not, please contact your System Administrator or IT Department for installation assistance. Once .net is installed/updated, you no longer are required to be an Administrator on your system to install or update ConstructConnect Takeoff.
Often, installing the .NET 4.8 framework requires a reboot of your computer. Once the reboot is complete, you can launch ConstructConnect Takeoff (next article).
ConstructConnect Takeoff must be installed by each unique user on a computer. If you are sharing a machine with someone else, you each install the product under your individual profile.
Before running the program the first time, you may need to configure your firewall.
ConstructConnect Live Link installation
After you log into the application for the first time, the Live Link installer runs.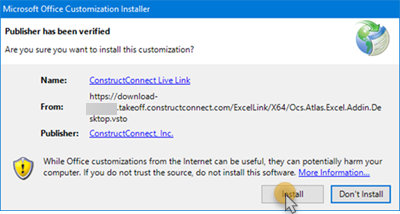 Click Install (make sure Excel is closed before clicking Install).
Allow this Office Customization to complete before opening Excel again.
Firewalls
Exceptions You Must Configure
There are two ports you must configure in your firewall to use ConstructConnect Takeoff:
Outbound tcp connections on port 443 (https) to *.constructconnect.com. This is the standard https port, if you can open a secure (https) Web page, you probably do not need to add an exception for this one.
Outbound tcp connections on port 61614 (stomp+ssl) to *.constructconnect.com. This most likely requires adding an exception.
Domains You Must Whitelist
You or your IT Admin need to ensure the following domains are "whitelisted" on your computer and network:
*.googleapis.com
*.storage.googleapis.com
*.google-analytics.com
*.constructconnect.com
*.mixpanel.com
Approvals You Must Allow
The first time you add a Plan Set to a project or edit an existing Plan Set, you are prompted, twice, to allow some Takeoff components through your firewall, be sure to click "Allow" or "Always Allow" on both, they look like the one below.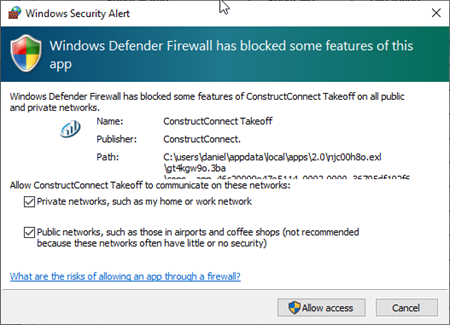 first prompt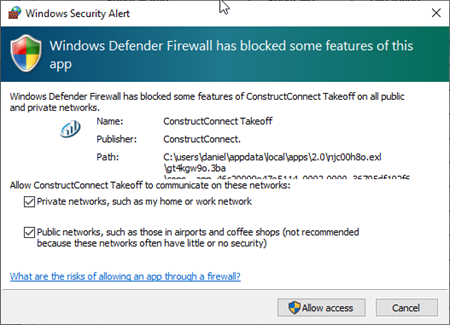 second prompt
How do I Install Updates?
You do not - the program does this for you, automatically, every time you launch it.
You cannot "Opt Out" of installing product updates and there is no need to "Check for Updates" - Updates are integral to the operation of ConstructConnect Takeoff so you can never be on an "old version".